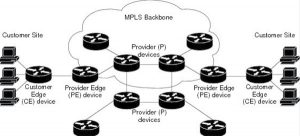 MPLS-VPN
–Multiprotocol Label Switching VPN
We are striving for the safety of your data, and also for your budget.
Overview
Multiprotocol Label Switching (MPLS) is a type of data-carrying technique for high-performance telecommunications networks that directs data from one network node to the next based on short path labels rather than long networkaddresses, avoiding complex lookups in a routing table. The labels identify virtual links (paths) between distant nodes rather than endpoints. MPLS can encapsulate packets of various network protocols, hence its name "multiprotocol". MPLS supports a range of access technologies, including T1/E1, ATM, Frame Relay, and DSL. In addition, since label information is separated within the network, it is different for different users' packets within the same public network. This means that you can use this service without any security concerns as the contents of your communications are in no danger of being leaked to other users.
Basing on MBT nationwide transmission DWDM&IP network, together with excellent chosen partners overseas, MBT is able to provide our MPLS-VPN service to our valuable clients such as banks, finance companies, industrial estates,
ISPs and Digital TV service providers both within Myanmar and also interconnection with abroad. Our VPN is also compatible to different data types including image, audio, and general data 1 Mbps and up to 10 Gbps. We are able to offer you with CoS (Class of Service) and QoS (Quality of Service).
Features
–    Multiple access abilities: Users can customize the speed from 1Mbps up to 10Gbps
–    MBT Network is compatible with variety of data type including image, audio, and general data.
–    Class of Service: Interlink Fiber Optic Network offers ability to classify the
priority of data in different data types.
–    Backups: Interlink Fiber Optic Network also offers automatic network switch from main nodes to backup nodes in case of emergency interruption.
–    Wide Coverage: MBT nationwide network includes business areas and
industrial estates especially Yangon, Naypyitaw, Mandalay, Bago, Magwe,
Pathein etc.