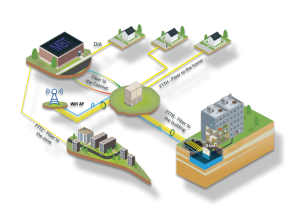 MBT Fiber Network Solutions
MBT is enabling everyone at everywhere to use fast, stable and secured network.
Overview
Applications such as online video, audio, payment, games are now being introduced into Myanmar. And as Myanmar is entering into the Digital Century, the demand for highspeed broadband internet access services is dramatically increasing. MBT, with its state-of the- art fiber optic &IP networks, is now ready
to serve our partners such as municipalities, utilities, real estate developers, private
companies, individual subscribers etc.
We offer customized network solutions to our customers, whether it is a residence or home (FTTH), a building (FTTB), a node (FTTN) or zone such as school or sport campus (FTTZ) with multiple network design and deployment methods and options.
With the realization of FTTx, MBT believes we can bring you a more modernized living, working, studying and entertaining environment and get anyone closer to each other and to knowledge of the world better than ever.